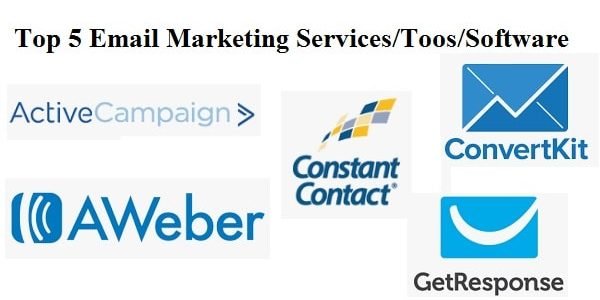 Email marketing is powerful marketing tool with return on investment of around $40 to every $1 you spent. This is only possible when you do it in a systematically way and with the proper choice of email marketing tool.
Based on our experience and after considering various factors like features, functionality, price and ease of use we have listed top 5 email marketing tools here. Below is the list that we are going to explain.
1. ActiveCampaign – Best for Email Automation
If you are looking for Marketing Automation tool or website then ActiveCampaign is the best option for you.
The drag and drop feature provided, by Active Campaign makes it easy to create unique and personalized emails, allowing you to reach a large number of customers personally.
ActiveCampaign is having more than 130000 customers. It is leading marketing automation tool by providing world class product solutions to B2B, B2C and ecommerce businesses.
Best part of ActiveCampaign is its email delivery rate, which is >99%.
It offers integration with more than 870 tools like Shopify, Saleforce, WordPress, WooCommerce, Jotforms, ClickFunnels and many.
They make it easy to integrate WordPress and also offer free expert migration service from other email marketing services to ActiveCampaign.
The ability to track onsite events makes ActiveCampaign unique from other services.
There are other features like Email Segmentation, Gmail extension for Chrome, Contact and Lead scoring, Manage contact and sales, Automatic follow ups and many more.
It has features which enable you to text message your subscribers.
You can get ideas by using 14 days free trial. Try it now. (This tools will definitely gives you MORE Return)
ActiveCampaign Plans and Pricing :
ActiveCampaign Offers mainly 4 plans named as Lite, Plus, Professional and Enterprise starting from $9/month.

2. GetResponse
GetResponse is email marketing software, which enables you to grow your email list, with high converting sign up forms and creatively designed emails. It uses modern user interface, making it easy to access your email newspaper campaign.
GetResponse having a list of email marketing features which aim to help you grow your business ultimately.
It provides many useful marketing resources such as courses, whitepapers, and videos that will give an idea about different aspects of email marketing.
If you are looking for tool which gives integrated webinar marketing solution with email marketing then GetResponse is best tool.
It gives 30 days free trial for new users. Get it now by clicking below button.
GetResponse Plans and Pricing
As you can see in below image that GetResponse provides 4 types of plans like Email, Pro,Max and Enterprise. Basic Email plan starts from $15/months for up to 1000 list size. Also Use Getresponse Coupon to get additional benefits.

3. ConvertKit
Convert Kit, is the most sought after email marketing tool, used mainly by publishers and bloggers.
This tool is designed in such a way that online creators like bloggers, Pod casters, and YouTubers will get maximum return from this.
Convert Kit email automation is easy to understand and easy to use for publishers.
For example, if you want to have a powerfully automated email funnel Convert kit has visual automation builder that help you guide a visitor through a value journey.
you can start 14 days free trial by clicking below button.
ConvertKit Plans and Price
ConvertKit plan starts from $29/months to $79/months for 1K subscribers to 5k subscribers respectively. For more subscribers you can choose calculate custom price. Get discount by using ConvertKit Coupon.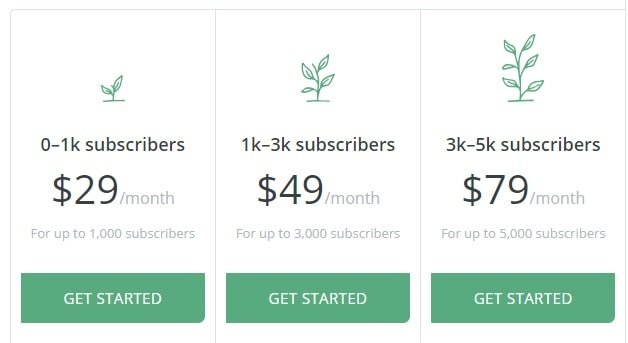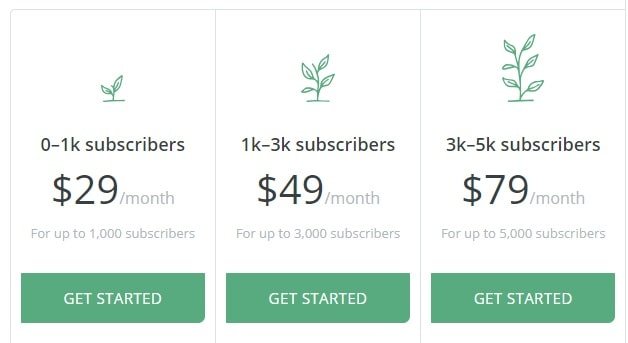 4. AWeber
AWeber is the most sought after by small businesses. It comes with every feature required to grow your subscribers.
You can design your advertisement, by using the special features, designed specifically for personal use.
It i very easy to enable the automatic feature which ensures automatic responses for email and mobile providers.
Best of all, you can integrate AWeber with your WordPress website, landing page builder, or opt-in form builder with ease. Support options include live chat, phone, and ticket-based emails.
AWeber is best for all marketers in general, especially those who're just getting started with email marketing.
AWeber Plans and Pricing
AWeber plan starts from $19/month to $149/month for 500 subscribers to 25000 subscribers respectively. If you are having more subscribers then you can get a custom quotes. Apply AWeber Coupon Code to save money.
5. Constant Contact
Constant Contact has been a leading email marketing provider for over 20 years. With easy-to-use features you can create email marketing campaign easily.
There are many features that makes Constant Contact better product, like,
Easily Drag, drop, edit and customize an email template that is mobile-responsive which look great on every device.
Upload contact lists from Excel, Outlook, Salesforce—or wherever you store your contacts.
Welcome Email for new subscribers
Email Scheduling.
Allows you to create Survey, Coupons and Polls
Automatically resend emails to non-openers
It allows you real-time tracking tools that report who's opening, clicking, and sharing your emails—so you can plan your next steps.
Expand your reach with powerful list-building tools.
It offers support with live chat, emails and discussion forums.
You full access to their tools for 30 days. Click below image to get started.
Constant Contact Plans and Pricing
Constant Contact comes with mainly three plans named as Lite, Email and Email Plus starting from $5/mo, $20/mo and $45/mo respectively. Do you want to get discount then use Constant Contact Promo Code.
Conclusion
Email Marketing is the most viable method of getting traffic to your website. It builds a steady increase of clientele along with repeat customers, thus ensuring a certain number of loyal clients.
So if you are looking to reach a larger number of clients email Marketing is definitely a method you should try in this digital era.
Related Post