How to get $100 DigitalOcean Free Trial Credit?
In order to get $100 free credit you can just follow this simple steps.
Step 1: Visit this DigitalOcean Free link.
Step 2: After clicking above link you will be redirected to DigitalOcean Home page. Here on the right side you can see the Signup button. click on Sign up button.

Step 3: On the next screen you will be asked to enter Full Name, Email and Password to complete signup or you can use Google account to signup.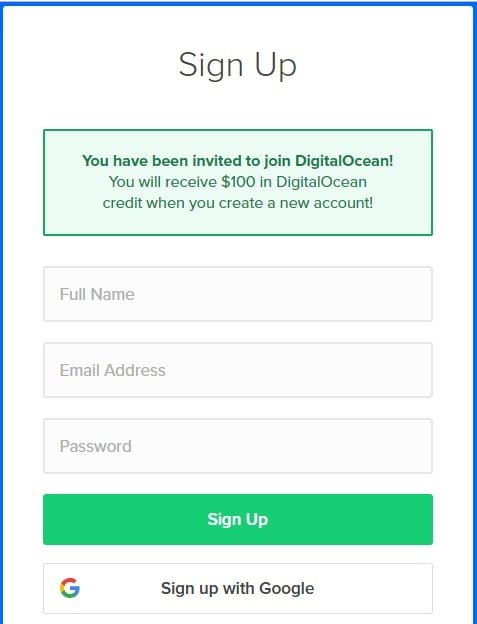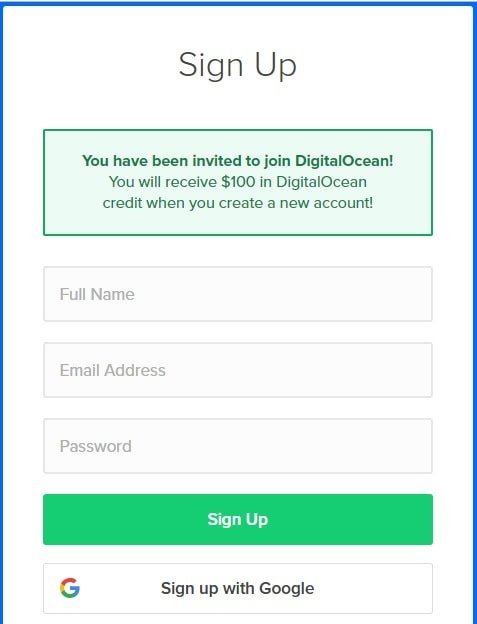 Step 4: In final step you can activate your account by using credit card or Paypal.
DigitalOcean Pricing
There are mainly four types of products that you can pay for. Products like Computes(Droplets), Databases, Storage and tools. Here we will see one by one with its pricing.
Droplets Pricing
DigitalOcean offers three types of Droplets.
Standard Droplets
General Purpose Droplets
CPU-Optimized Droplets
Standard Droplet Pricing
As you can see in the below table, Pricing starts from $5/month to $960/month for 1 GB and 192 GB Memory Plan.
MEMORY
VCPUS
SSD DISK
TRANSFER
PRICE
1 GB
1 vCPU
25 GB
1 TB
$5/mo
$0.007/hr
192 GB
32 vCPUs
3,840 GB
12 TB
$960/mo
$1.429/hr
General Purpose Droplets Pricing
Price for General Purpose Droplets ranging from $60/month to $1200/month.
MEMORY
VCPUS
SSD DISK
TRANSFER
PRICE
8 GB
2 vCPU
25 GB
4 TB
$60/mo
$0.089/hr
160 GB
40 vCPUs
500 GB
9 TB
$1200/mo
$1.786/hr
CPU-Optimized Droplets Pricing
Price for CPU-Optimized Droplets ranges from $40/month to $640/month.
MEMORY
VCPUS
SSD DISK
TRANSFER
PRICE
4 GB
2 vCPU
25 GB
4 TB
$40/mo
$0.060/hr
64 GB
32 vCPUs
400 GB
9 TB
$640/mo
$0.952/hr
Database Pricing
DigitalOcean combines the power of VM Platform with managed PostgreSQL database engine to give faster performance. Price starts from just $15 to $2240/month with Memory ranging from 1 GB to 64GB respectively. Disk space ranges from 10 GB to 1.12 TB and 1vCPU to 16vCPU.
Storage
You can use Spaces Object Storage, Block Storage, Backups and Snapshots for storage purpose.
Spaces Object Storage
Store your images, media, content and files on object storage with built in CDN. It offers 250 GB storage for the price of $5/month with 1 TB outbound transfer, $0.02/GB for additional GB and $0.01/GB for additional GB transferred.
Block Storage
You can attach additional block storage for the cost of $0.10/GB/month to your droplet.
Backups
You can avail backups at the cost of 20% of the cost of your virtual machine.
Snapshots
You can get Snapshots at a rate of only $0.05/GB per month.
Tools
DigitalOcean comes with two tools like Load Balancers and Floating IPs at the cost of $0.015/hr and $0.006/hr.