Recently Expired HostSailor Coupons
Latest HostSailor Coupons, Promo Code and offers November 2023
Here you get all the latest coupons for HostSailor in different hosting plans ranging from Shared SSD hosting to Dedicated servers.
| | | |
| --- | --- | --- |
| Coupon | Plan Details | Price |
| HostSailor Coupon | SSD Hosting | $0.95/month |
| HostSailor Promo | Reseller Hosting | $1.99/month |
| HostSailor Discount | VPS Hosting | $1.99/month |
| HostSailor Coupon Code | Dedicated Servers | $67.95/month |
How to Apply HostSailor Coupon Code?
Just follow the below mentioned steps in order to apply HostSailor coupon code.
Step 1: Visit HostSailor.com website.
Step 2: Here you can find the Web hosting tab, in which you can select hosting (SSD hosting, VPS hosting or Dedicated hsoting) as per your need.
Step 3: Next you can select hosting order from Romania or Netherlands.
Step 4: Now it will ask you about domain name. You can use your own domain or purchase new one from HostSailor.

Step 5: Check the domain name availability by clicking Check button ans then click continue.
Step 6: In next step it will ask for dedicate IP. If you like to buy then add it else click continue.
Step 7: This step includes domain configuration which includes DNS management, ID protection and Email forwarding. This features are optional.
Step 8: Finally we are in last step where you can review and checkout your order. Here you can find "Apply Promo Code" text box. Enter coupon code and  click of "Validate Code".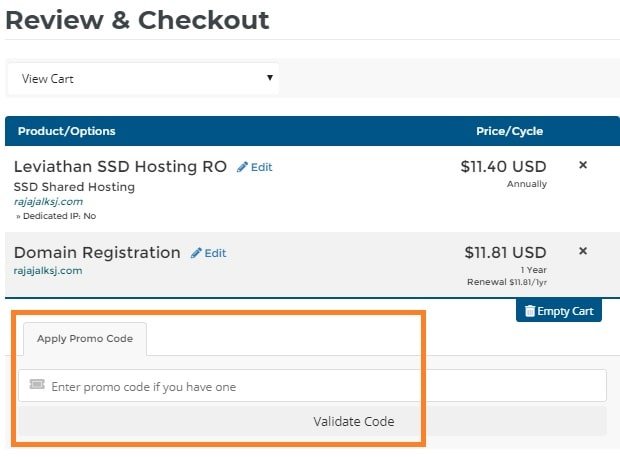 Step 9: Last is Checkout. Add your basic details, generate password and make payment. Payments can be done via Paypal, Skrill, Bank transfer and many other options.
HostSailor FAQ (Frequently Asked Questions)
What Are The Types of Hosting Services Offered By HostSailor?
HostSailor offers Shared hosting, Dedicated Hosting, Linux and Windows VPS hosting and VPN servers.
SSD Shared Hosting Types
Leviathan SSD Hosting
Perseus SSD Hosting
Zigra SSD Hosting
Kraken SSD Hosting
Osiris SSD Hosting
VPS Hosting Types
OpenVZ
Xen VPS
Linux KVM
Windows KVM
Storage KVM VPS
Dedicated Servers
Netherlands Servers
Romania Servers
Fujitsu Servers
Does HostSailor Have a Money Back Guarantee?
Yes. If you cancel hosting plan within 14 days from purchase date then you will get full refund. But any order cancel after 14 days time frame then it will not be eligible to get refund at all.
What Support Does It Offers to Customers?
HostSailor offers real time chat and email support for 24/7. They provide technical support via email only and general queries and assistant provides via chat support.