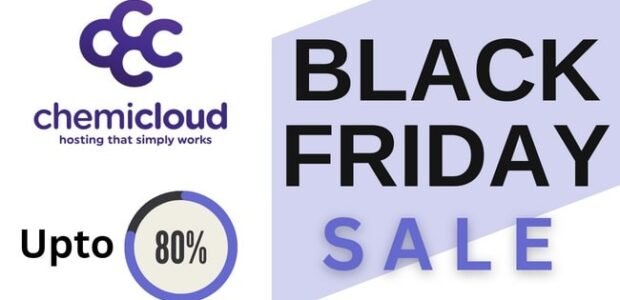 Wait is over! Here again ChemiCloud is back with Black Friday Sale 2023. During this Black Friday Sale, Chemicloud is offering 80% off all shared hosting along with a free domain for life.
ChemiCloud Black Friday Sale 2023 – Flat 80% Off and Free Domain for Lifetime.
Are you waiting for the ChemiCloud Black Friday deals in 2023? Want to save a tonne of money on ChemiCloud hosting? Your search ends here. During the sale, you can save up to 80% on their hosting plans.
They even offer free domains for life with their shared hosting plans, which start at just $1.99 per month. If you're an active ChemiCloud customer, you won't need to worry about renewing your domain.
Well, your hosting matters a lot when it comes to making or ditching your online business. The quality of your hosting server will have a direct impact on how well your users can access your content, regardless of how well you optimize your website. When a host is good, the site loads quickly, provides a great user experience, and guarantees better uptime all the time, whereas when the host is bad, there is a lot of downtime and a slow site.
So what are you waiting for? Grab the deal now.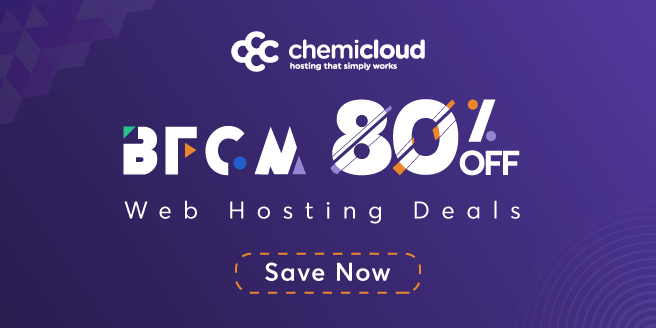 How to Grab the ChemiCloud Black Friday Sale?
Therefore, if you've decided to partner with ChemiCloud, you must be wondering how to benefit from such discounts. I'm here to explain everything, so don't be concerned.
Step-1 click on special discount link given below for getting coupons code for black Friday deals. You can also get more ChemiCloud Coupon Code here.
Step-2 Click on the coupons you want to use for copying coupon codes, and after that, you will be redirected to the Chemicloud Black Friday Sale Offer page.
Step 3: Scroll down to find the following special prices once you're on their Black Friday deals page. Choose the web hosting plan you want to buy.
As you can see, the starter plan's cost is $1.99/mo, which is way cheaper.
Step-4: Choose a plan that fits your budget and website requirements. Once you've made the payment, you're done!
ChemiCloud Black Friday Deals on Various Hosting Plans
Shared Hosting Deal
Shared hosting packages can be ordered monthly, annually, biennially, or triennially. Regular price starting at $9.95 per month. But this black friday price is just $1.99/month. It comes with three plans namely Starter, Turbo and Pro Plan.
Shared hosting uses fast, secure and reliable cloud hosting platform.

WordPress Hosting Deal
With ChemiCloud's WordPress Hosting, installing WordPress is simple. ChemiCloud Wodpress hosting is fully optimized for top speed and realiability. It includes free domain, and access to Lightspeed cache! Plans begin at $1.99 per month.
Check WordPress plan comparison and it's prices on this black friday sale days.
| | | | |
| --- | --- | --- | --- |
| Plan | Regular Price | Black Friday Price | |
| WordPress Starter | $9.95 | $1.99 | Get Deal |
| WordPress Pro | $14.95 | $3.19 | Get Deal |
| WordPress Turbo | $19.95 | $3.99 | Get Deal |

Other WordPress hosting competitors you can choose from are : Hostinger WordPress Hosting Coupon Code, WPX Hosting Offer, Nexcess Coupon Code and Liquid Web WordPress Hosting Offer.
Reseller Hosting Sale
With ChemiCloud's Reseller Hosting plans, you can avail 80% off. Reseller hosting allows you to host your own clients! Additionally, you will have free billing software and access to a domain reseller account. The cheapest package is $19.95 per month which is regular price. Price for the Black friday Chemicloud reseller hosting is $5.99/month only. Check the reseller hosting price comparison.
Here are some of the best reseller hosting options with their coupon code: ResellerClub Coupon, Verpex Coupon, Interserver Coupon Code and Greengeeks Promo Code.

VPS Hosting Deal
Plans for ChemiCloud VPS Hosting are offered at a 50% discount. You can obtain a free cPanel license and Litespeed servers with their plans, which start at $9.99/month. This black friday comes with big discount for VPS plans. Check the details mentioned below.
| | | | |
| --- | --- | --- | --- |
| Cloud 1 | Cloud 2 | Cloud 3 | Cloud 4 |
| 2 CPUs | 4 CPUs | 6 CPUs | 8 CPUs |
| 4 GB RAM | 8 GB RAM | 16 GB RAM | 32 GB RAM |
| 80 GB NVMe | 160 GB NVMe | 320 GB NVMe | 640 GB NVMe |
| 4 TB Bandwidth | 5 TB Bandwidth | 6 TB Bandwidth | 7 TB Bandwidth |
| Get Deal | Get Deal | Get Deal | Get Deal |
If you are looking for alternative VPS hosting providers then just refer this recommendations given by us: Bluehost VPS hosting coupon and Dreamhost VPS hosting promo.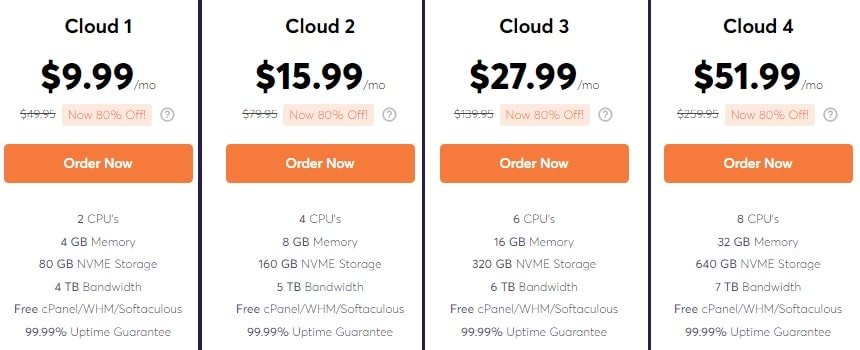 About ChemiCloud Hosting
The ChemiCloud hosting was founded in 2016 and is based in the United States. The company's main goal is to maintain complete transparency and make their services easy to use for their customers.
It appears to be a reasonable choice for all types of businees and eCommerce hosting because to its great speeds, customer service, and load handling.
With its hosting services, you also receive a free domain name for life, a 45-day return policy, and an absurd 50 cPanel migrations!
Chemicloud is a customer-focused hosting company that is 100% owned independently. ChemiCloud data centers are all throughout the world, just like many other hosting companies.
This includes data center locations like the United States, Canada, the United Kingdom, Australia, Germany, Romania, Singapore, Japan, and India.
Why to Choose Hosting from ChemiCloud on this Black Friday Sale?
Here are some of the reason that gives the reason to choose Chemicloud as your next hosting provider. As a hosting provider, ChemiCloud offers multiple benefits. To give you a general idea of their services, I have shared some of them here.
Cloud Platform with High Reliability
Cloud hosting infrastructure is robust at ChemiCloud. Data security is ensured by multiple servers. In addition, it offers 99.99% uptime. You will never have downtime on your website.
Lifetime Free Domain Name
ChemiCloud offers a free domain name as long as you continue as a ChemiCloud customer. But it can be a huddle for beginners who have a smaller budget.
Speed Up Your Website
ChemiCloud offers secure and fast SSD storage. Low-density servers and multiple server locations spread globally will boost your website speed.
Automated Security
One method of website security is by giving away free SSL certificates. To safeguard your website from dangers, it offers a tailored web application firewall. Chemi Cloud offers daily offsite backups for up to 30 days, anti-spam email filtering, imunify360 virus protection, and many other features.
No-cost Website Transfer
You must be worried that transferring from another host to ChemiCloud will be difficult, but don't be. In a matter of hours, their migration specialists will transfer your website from your current host to ChemiCloud server.
Email Accounts for Free
You can make an unlimited number of free email accounts with ChemiCloud. To guarantee 100% deliverability of your emails to the recipients' inboxes, it has partnered with numerous mail channels. As a result, your messages won't be blocked.
Global Server Locations
The server location where your site is hosted has a significant impact on how well it performs. It is always advised to choose a location close to your intended audience as it will speed up loading times. In light of this, it's crucial to be aware that when you join up for ChemiCloud, you can choose a server location based on your needs. (7 sites in the world).
cPanel and Softacuilas
ChemiCloud provides a cPanel control panel integrated with Softaculous to manage your websites. You can use Softaculous to create a new WordPress site, backup or restore your site, and monitor many other services.
24/7 Technical Support
Chemi Cloud Support is available round-the-clock by live chat, email, tickets, and phone if you ever need assistance using Chemi Cloud.
Every Plan Includes No Cost Backups.
After you launch your blog or website, you'll probably find yourself making modifications to it to enhance the user experience, the look, and add new features.
Addition of code or significant alterations to the design or functioning are frequently necessary for these improvements. It is advised that you make a backup before making any such modifications for security reasons.
All of ChemiCloud's plans provide a free backup service, which is a major plus point.
Pros and Cons of ChemiCloud
Here we have listed some of the Pros and Cons of Chemicloud hosting.
Pros of ChemiCloud
SSD Storage
Easy to Use Control Panel
LiteSpeed Web Server
Premium DNS
Automated Backup
Unlimited Bandwidth
Malware Detection & Removal
Secure Email Accounts
45 Days Money-Back Guarantee
One-Click Staging Area
Backup & Restore
Multiple Security Layers
99% uptime guarantee
24/7 network monitoring
Cons of ChemiCloud
High Renewal Rate
Call Support Not Available
Limited SSD Storage
FAQ : ChemiCloud Black Friday Deal
What Black Friday offers will there be for ChemiCloud in 2023?
The ChemiCloud Black Friday offers for 2023 are shown below.
– $1.99/month for shared hosting with ChemiCloud (with a free domain for life)
– Get 80% off Reseller Hosting (beginning at $5.99/mo)
– Flat 80% off Cloud VPS Hosting (starting at $9.99/mo)
When is the ChemiCloud Black Friday sale in 2023?
ChemiCloud will begin their Black Friday 2023 sale on November 4th and run until November 27th.
Do they offer a free domain with ChemiCloud?
Yes, even with their entry-level service, ChemiCloud provides a free domain for LIFE.
Can I host an infinite number of websites on ChemiCloud hosting?
Yes, ChemiCloud hosting allows you to host an infinite number of websites (except for their basic hosting plan).
Does ChemiCloud offer renewal discounts?
Yes, during ChemiCloud Black Friday Sale 2023, They will provide 50% off renewal plans and account upgrades.
What if ChemiCloud doesn't suit my needs?
In the event that you are dissatisfied with ChemiCloud's hosting or services within 45 days of the purchase, you can request a complete refund.
Final Conclusion on ChemiCloud Black Friday Sale
The hosting plans from ChemiCloud are definitely worth looking into if you're looking for a best hosting at reasonable price.
What's best? You may get a significant discount on their hosting plans this Black Friday of up to 80% along with a lifetime free domain.
Have you taken advantage of the ChemiCloud bargain to save a whopping 80%? Have any inquiries? Please tell us in the comments.