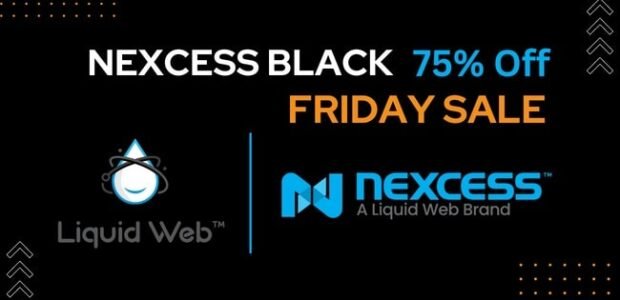 Are you interested in Nexcess Black Friday 2022 Deals? For well-known website-building systems like WordPress, WooCommerce, Magento, and others, Nexcess is a fully managed hosting solution. And this time Nexcess black friday sale comes with huge discount sale.
In general, Nexcess hosting provides various discount codes all year round! You can get a discount of between 50% and 80% on Nexcess Hosting orders.
Nexcess Black Friday Deals
As part of Black Friday promotions, they are currently providing a massive 75% discount on their premium hosting plans till November 30. On Black Friday, a lot of web hosting providers offer steep discounts. This top-tier host is likewise not an exception.
During the Nexcess Black Friday deal, you may save up to 75%!
The Nexcess Black Friday Sale deal is as follows:
Deal type: Black Friday Sale
Coupon code: NEXCESSBF2022
Deals:
Here you can check that how much it is going to cost you after availing this Nexcess Black Friday & Cyber Monday Offer.
Managed WordPress Hosting: Plans starting at $4.75/month for 4 months if you use black friday coupon. This plan comes with Free SSL, free email, 15 GB storage, 2 TB bandwidth and 1 website are some of the features offered by this service.
Managed WooCommerce Hosting: Nexcess WooCommerce is starting from $4.75 per months for 4 months. It means for the first 4 months you will get 75% off on monthly plans. This plan includes 1 store, 30 GB storage, 3 TB bandwidth, and Free SSL and email. This package is perfect for launching a superfast online store.
Managed Magento Hosting: Plans starting at 75% off and cost you around $14.75/month. It supports up to 11 sites, 50 GB disk space, 1000 GB bandwidth and 25 PHP workers per site.
Steps to Avail Nexcess Black Friday Deals
You can avail 75% off on all hosting plans offered by Nexcess. To avail this black friday deal just follow the following steps.
Step-1 click on this special discount link. This will redirect you to nexcess black friday home page. Copy this code : NEXCESSBF2022.
Step-2 Select the plan from the available options that you want to buy. This will redirect to the specific product page.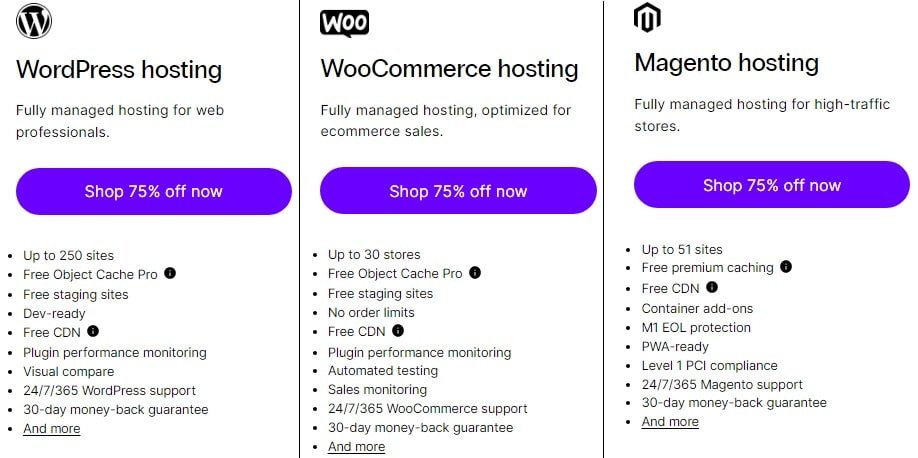 Step-3 Next click on the 'Buy' button. Before that you can select billing cycle that is, whether you want to go for monthly plan or annual plan.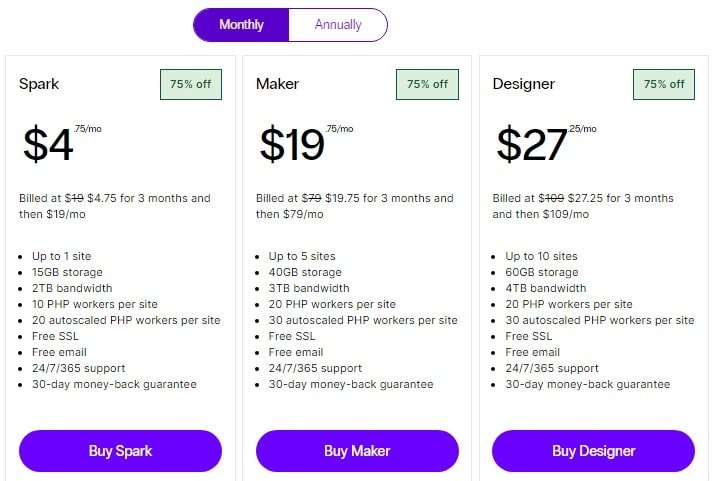 Step-4 You can look through the many WordPress hosting plans offered by Nexcess, including Spark, Maker, Designer, and others. Select as per your need.
Step-5 Then it will take you to the checkout page. You can see your current plan and the discount that is being provided on it in the sidebar on the right. You can add the Nexcess coupon code copied from step-1 and apply it, if it is not automatically applied.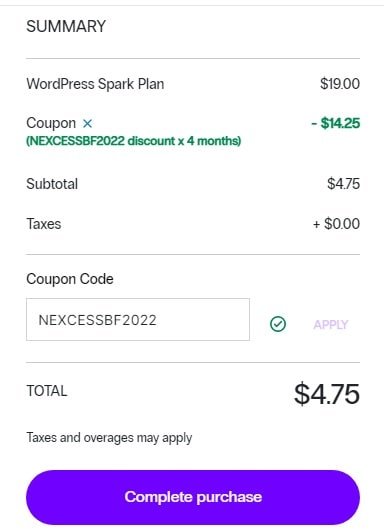 Step-6 To get huge savings on Nexcess hosting, all you have to do is register for a Nexcess account and provide your contact and payment information. That's Done.
Nexcess Black Friday Plans and Pricing
This black friday nexcess is offering 75% off on all main three plans. Below we have listed all plan details with discount price.
75% off on Managed WordPress Hosting Plan
Every WordPress plan comes with free staging site, unlimited email accounts, free SSL, automatic daily backups, and premium plugins included in every WordPress hosting plan.
It offer 7 WordPress plans as below.
Spark : $4.75/mo
Maker :$19.75/mo
Designer : $27.25/mo
Builder : $37.25/mo
Producer : $74.75/mo
Executive : $137.25/mo
Enterprise : $249.75/mo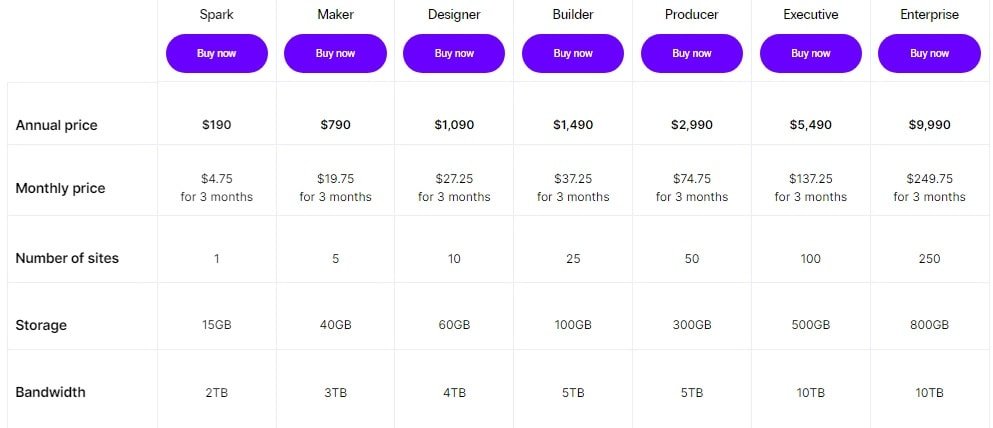 75% off on Magento Cloud Hosting Plan
Nexcess managed cloud hosting is PWA-ready, RAM burst capacity, unlimited email and 30-day backups. Every version of magento includes Security, speed, and scalability.
Here is the list of all magento plans.
XS : $14.75/mo
S : $27.25/mo
M : $47.25/mo
L : $77.25/mo
XL : 139.75/mo
XXL : 214.75/mo
75% off on WooCommerce Hosting Plan
Features that all WooCommerce hosting plan includes are Free migrations, daily backups, unlimited email accounts, and a 30-day money-back guarantee.
Plan names and pricing are as below:
Starter : $4.75/mo
Creator : $19.75/mo
Merchant : $37.25/mo
Standard : $74.75/mo
Growth : $137.25/mo
Enterprise : $249.75/mo
Why Nexcess Hosting for your Next Website on this Black Friday?
Nexcess is a sibling brand of Liquid Web, it is a well-known managed hosting service. It provides a variety of hosting solutions with many great features at a low cost. The American city of Ann Arbor, Michigan, serves as the home base for Nexcess. They have servers spread out all over the world.
It has more than 45,000 clients worldwide and provides top-notch support through devoted solution engineers.
Nexcess, a pioneer in the hosting sector, has more than ten global data centres and is building up its brands quickly.
From delivering high-performance hosting for WordPress, WooCommerce, and Magento.
Due to its outstanding functionality, uptime, and customer service, many businesses rely on it for hosting.Numerous testing have revealed Nexcess to be among the fastest managed hosting companies.
Briefly said, Nexcess is uniquely crafted to provide fully managed hosting options for WordPress, WooCommerce, and Magento.
Key Features of Nexcess Hosting
The following are a few of Nexcess hosting top attributes:
An all-in-one hosting solution
In contrast to other hosting providers, Nexcess allows you to maintain your website without concern. Numerous duties, including Core Updates, Site Staging, Multi Site Management, CDN Management, etc., are handled by it.
Guaranteed uptime of 100%
Nexcess is the only web hosting provider that guarantees a 100% uptime. The uptime of Nexcess is still remarkable and exceeds the industry average. Customers of Nexcess' hosting services that encountered valid outages are given a 10x credit for the duration of the downtime.
Multi-user accounts
For the different extents of access to your hosting account, you can create various user accounts. This is an excellent tool for any case when you might need more than one person to work on your website, such as a business, team, or whatever else.
Migration of the site
You wish to migrate from another web host to Nexcess, but you are unfamiliar with the migration process. Nexcess professionals will help you transfer your website and make the process simple for you, so don't worry.
Exceptional performance
The premium managed WordPress hosting service offered by Nexcess Hosting is the main argument in favor of using it. With managed WordPress hosting, the provider takes care of all the time-consuming processes, including WordPress installation, setting up daily automated backups, updating the WordPress core, and more. When new versions are available, it automatically updates all WordPress core and plugin updates.
The ability to scale automatically
We all want our websites to be popular and have lots of visitors. But are we prepared to deal with one? Your website requires an update as traffic grows. However, it is not a good idea to spend a lot of money unnecessarily.
Nexcess turns on Cloud Auto Scaling by default. Your website won't crash during busy times if you make use of this functionality.
SSL Certificates for Free
Any website must have an SSL certificate. It establishes confidence while encrypting your data between the server and clients.
Free SSL certificates are activated on every domain and website hosted with Nexcess Hosting. As a result, since SSL certificates are installed without charge, you don't need to take any additional steps to convert your website to HTTPS.
Daily backups are free
Backups shield your website in the terrible event that something goes wrong. The daily maintenance of them takes time, though. You may automate the procedure with Nexcess to save time and effort.
Whether you know it or not, very few web hosting providers provide free backups. They only provide free weekly or monthly backups. If you are consistently uploading new content to your website, you should make daily backups of it. Due to its free daily backups kept every 30 days, Nexcess stands out.
Enhances website security
Any web host you choose should have security features that you should review. Numerous WordPress websites are hacked daily. As a result, it's crucial to pick a web host that provides the highest security measures. With its iThemes Protection Pro plugin, Nexcess offers top-notch security.
Nexcess Black Friday Pros and Cons
Pros
exceptional uptime
Fast and reliable hosting
excellent WordPress optimization
iThemes Security Pro Plugin for Free
Every hosting plan is PCI compliant.
seasoned assistance for managed WordPress
Cons
FAQ : Nexcess Black Friday Sale
Do Nexcess have a free trials?
Although Nexcess doesn't provide a free trial, it does have a 30-day money-back guarantee, so you can try the hosting and request a refund if you're not happy.
How much of a discount can I expect from the Black Friday Deal on Nexcess Web Hosting?
As of right now, Nexcess Web Hosting is giving you a 75% Black Friday discount.
Is the any Nexcess Black Friday Coupon Code?
Yes they do offer. Use this code (NEXCESSBF2022) to avail 75% discount on this black friday sale.
What kinds of services does Nexcess provide for web hosting?
Here are a few of the web hosting services offered by Nexcess.
Magento Hosting
WooCommerce Hosting
WordPress Hosting
Flexible Cloud Hosting
Enterprise Hosting
When will the 2022 Nexcess Black Friday sale begin?
The period spans from November 1st, 2022 through November 30th, 2022.
Can I Create an Online Store Using Nexcess Hosting?
You can, indeed. You can create eCommerce store using Nexcess store builder. This is one of the best ecommerce website builder.
Is Nexcess Web Hosting fast?
Yes. You check speed and performance on GTmetrix It provides best website load time.
Where can I go for Nexcess Web Hosting assistance?
You can contact Nexcess support team 24/7/365. They provide email, chat and phone support. These are the three phone support contacts.
Americas
+1-866-639-2377
Australia
+1-800-765-472
United Kingdom
+0-808-196-5715
Nexcess Web Hosting: Does it Offer Migration?
Yes, Nexcess Web Hosting offers free assistance when you move your websites from another host to Nexcess Web Hosting.
Final Verdict on Nexcess Black Friday Sale
Nexcess is unquestionably a top-notch hosting company, thus it is worthwhile to give them a try for your website. Your online business will advance because it is more dependable, secure, and incredibly fast.
Nexcess is your best option if you intend to host a website that receives a lot of traffic. Nexcess has all the tools and benefits you need to expand your website or blog.
Don't miss this opportunity to take action and take advantage of the greatest discounts because the Nexcess Black Friday sale will only be available for a short time.
If you're seeking for a quicker, safer, and more reliable web hosting platform for your website, Nexcess is a great option.
Happy Hosting.!!!!