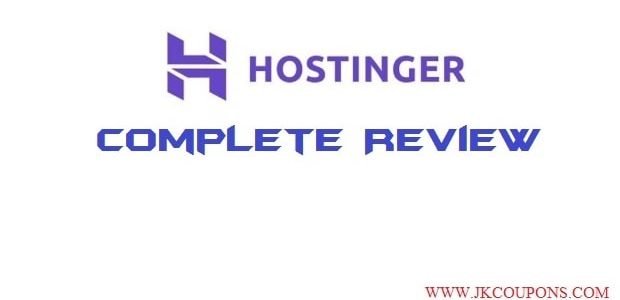 Everyone wants the best hosting site for their website. No one would want to go with a hosting site that is unprofessional and doesn't work smoothly. We all look for hosting sites that are not only cheap but also provide quality service. And one such site is Hostinger. So for your simplicity we provided full hostinger review here.
About Hostinger
It is probably one of the most famous hosting providers in the world. It has been in the market for over a decade now. Hostinger started with a different name, 000webhost.com and then later in 2011, the name changed to Hostinger.com, which is much classier than the former name.
In May 2014, their user base had crossed over 10 million. And just three years later, in 2017, their user base was reported to be of 29 million. That is an impressive growth rate for any company.
But is it the best hosting company out there? And what is so special about Hostinger that makes it unique? Let's find out.
Pros of Hostinger
Excellent Up Time
Anyone purchasing hosting for any amount of time wants their site to be up online every second of it because if someone wants to visit the site and they don't find it's online, it is a loss for the person who purchased the hosting. And Hostinger has a great record of up time for their hosting.
Well, Hostinger does have its downs too every other month, but it's a matter of not even one percent time in total. So the chances for your site to not have up time is less than one percent, that is something not a lot of other hosting sites can promise. And if there was an average to be taken for Hostinger's up time, it is 99.93%. That is a sweet deal.
Check the below analysis carried out over last 10 months for the proof of Hostinger up time.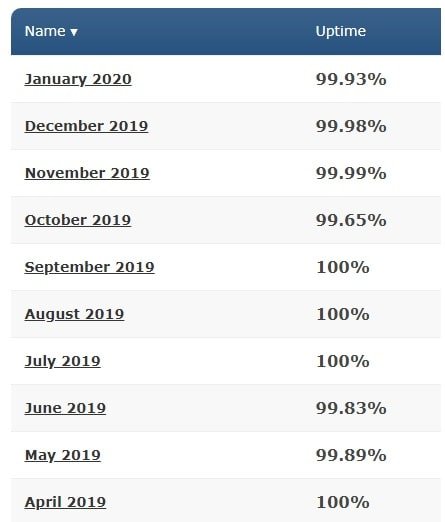 Fast Loading Time
If a certain user is opening a site, he/she would want it to open fast. Anything slow in today's world is passed upon, especially websites. If your site is not loading fast, chances are, people won't wait for it to open every time they try to.
And Hostinger's made sure that whatever kind of site that is being hosted on their platform opens as fast as possible. Its loading time for a site is 337 ms which is considerably fast. According to statistics, 40% of people don't wait for a site to open if it is slow, so that would mean losing 40% of their business for some people. The best thing about Hostinger's servers is that they are located in the USA, Asia, and Europe, so that it becomes fast for people living in these respective continents.
And according to the test results, Hostinger's servers are 58.54% faster than the industry average of other servers. That is something that ranks Hostinger above other hosting platforms.
See the statistics done over last 10 months to get full detail on load time.
The Money-Back-Guarantee
For a person trying a new thing, before investing their hard-earned money on it, they would want to see how it works. And Hostinger understood this psychology and thus offers a 30-day money-back guarantee to their every customer who is not satisfied with the hosting service or its quality.
Great Customer Support
The thing is, many people are not technically familiar with how websites are built and how they are designed. Those people need help and that is why it is important to have a great customer service backing up your hosting platform.
Hostinger has one of the best customer service platforms in the whole industry. Sometimes people panic when their website is down; this is when they need someone to explain to them that everything is okay.
And sometimes there is some error with the codes of the website, and most of the people can't resolve the issue because they simply do not know of it, this is also when good customer support is needed.
Anyone who tries to contact Hostinger's customer support will go back happy with their issue resolved. And people don't even have to wait long for an expert to answer their queries, the wait time for an expert to be with you less than one minute. You can chat live with the expert and they will clear out any issue you have. And their customer support is active 24/7, which means regardless of what time it is; you can contact them.
Free Stuff
Anyone in this world won't turn down free stuff. And especially when they have paid for one thing, they don't usually want to spend more. And one of the issues with people creating a new website is that they have to pay for hosting and at the same time, pay for the domain name as well. But that is not how Hostinger works.
If you have purchased hosting from Hostinger, you will also be provided with a free domain name creation facility and a free website builder along with it. More than half of the issues are solved with this. You can just focus on getting the best design for your website. You just have to choose a template and then you can customize it in any manner you want.
Good Pricing
The pricing strategy for each of the hosting plan that Hostinger offers is justified. Hostinger is one of the cheap hosting provider with excellent services. Their prices can be as cheap as lower as a dollar a month, but for that, you will have to pay for the next 48 months all at once.
But even if you choose not to do so, and have to pay a few extra bucks for a short period, the services that you get from Hostinger and the money you have saved by not purchasing a domain from somewhere else is used up here, but even then it's cheaper.
Apart from this you can also go with our special hostinger coupon in order to save money.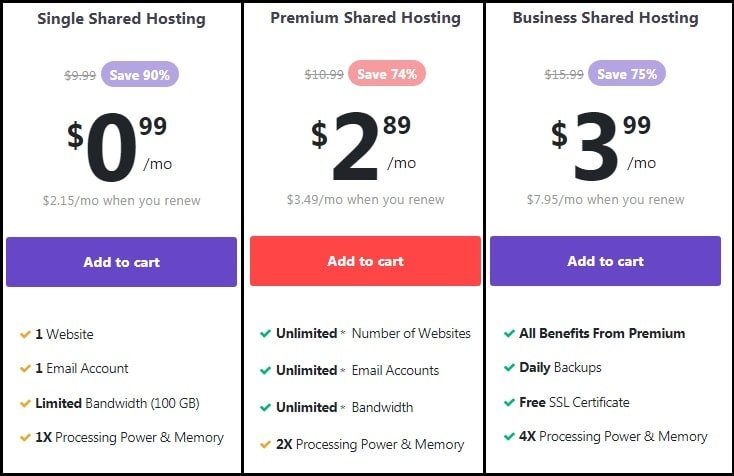 Cons of Hostinger
Logging in Issue
Most of the people found this to be a very unnecessary feature. The thing is, if a person wants to access customer support for anything, they will first have to log in to their account and then from there they can access live chat.
This makes the process very lengthy and time-consuming.
No cPanel
Maybe this is one of the biggest reasons why people don't choose to go with Hostinger at times because they don't offer a traditional cPanel that every other hosting platform offers. People are used to working with cPanel, and the absence of it is just a big no for the Hostinger. But still I can say hPanel provided by them are also good and user friendly.
Nonstandard Payment Terms
The refund policy of Hostinger is not as simple as it sounds. There are both refundable and nonrefundable items present in your purchase. The items that can be refunded are:
Hosting
Domain transfers
SSL Certificates
There are non-refundable items too, which are:
Fees for redemption
Renewals for domain names
Privacy protection fees
All of these are non-refundable items.
Hostinger Review by Users
Here you can find the review by other users who is already using hostinger hostinger services.
Final Conclusion Based on Our Expert Review of Hostinger
So is it a good decision to go with Hostinger as your first or maybe next hosting platform. Absolutely yes, the cons aren't that big deals. But the pros that are available with the purchase of any plans of hosting from Hostinger are as good as you will find in the hosting market.
Related Post
Hostinger WordPress Hosting Review