Do you want to start your online business or going to start a blog? Having issue with budget? Then I can suggest Cheap Hosting that you can afford. Let's look at the details about cheap hosting provider.
| | | | | |
| --- | --- | --- | --- | --- |
| | 1 Year | 2 Year | 4 Year | |
| Hostinger India | Rs. 1908 | Rs. 2856 | Rs. 3634 | Buy Now |
| ChemiCloud | Rs. 2870 | Rs. 5740 | Rs. 11194 | Buy Now |
| Bluehost India | Rs. 3588 | Rs. 6216 | Rs. 9552 | Buy Now |
| Hostgator India | Rs. 1908 | Rs. 3336 | Rs. 6672 | Buy Now |
Try Hostinger India – 30 Days Money Back Guarantee
Cheap Hosting Provider in India
Hosting provider that gives affordable and reliable service is Hostinger India.
Hostinger India is fastest growing hosting provider in India. Check Complete Hostinger Review so you can get idea. Their plan starts from just Rs.45/month. you can get it even lower rate by using our exclusive coupon code.
Hostinger provides various hosting services like Shared Hosting, Premium Web Hosting, Business Web Hosting, Website Builder, Cloud Hosting, VPS Hosting and WordPress Hosting.
Cheapest Hosting Plan Details
Now let me Show you plan details: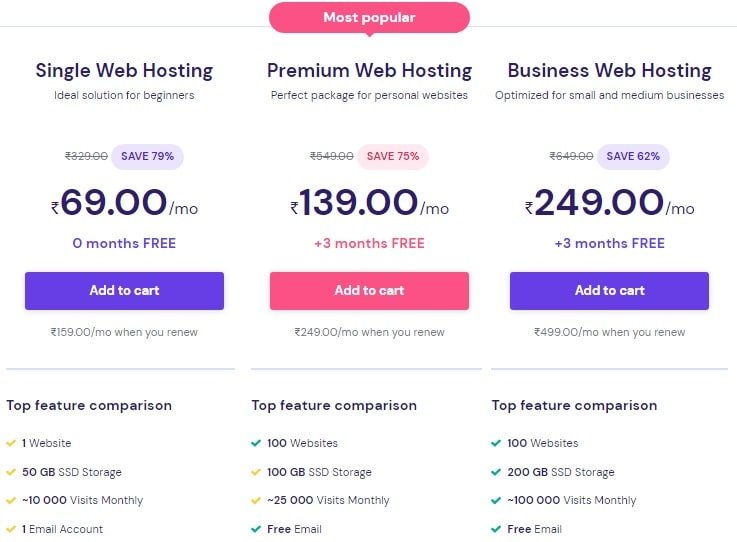 Single Web Hosting
This is best suited plan for beginners having low traffic to their website. Plan starts from as low as Rs.45/month. Additionally you can use Hostinger India Coupon to get more discounts. Plan includes following features:
Price: Rs.69/month
Website: 1
Free Domain: No
Email Account: 1
Bandwidth: 100 GB
Processing Power & Memory: 1X
Free SSL: NO
Daily Backups: NO
Premium Web hosting
Price: Rs.139/month
Website: Unlimited
Free Domain: YES
Email Account: Unlimited
Bandwidth: Unlimited
Processing Power & Memory: 2X
Free SSL: NO
Daily Backups: NO
Business Web hosting
Price: Rs.249/month
Website: Unlimited
Free Domain: YES
Email Account: Unlimited
Bandwidth: Unlimited
Processing Power & Memory: 4X
Free SSL: YES
Daily Backups: YES
Cheap Hosting Features
Guaranteed 99.9% Uptime
Hostinger guarantee that all servers work 99.9% of the time. All servers are monitored 24/7 by an expert team.
Superior Speed Performance
It guarantees that you will get maximum speed and stability that are essential for running successful website.
Free SSL Security
If you purchase business hosting plan for more than 12 month then you will get free SSL Certificate.
Powerful Control Panel
A custom developed control panel that allows you to easily handle your website. Here it gives you Website builder, Auto installer and many other tools to make your website ready in minutes.
30-Day Money-Back Guarantee
Biggest advantage of selecting Hostinger as hosting provider is that it provides 30-days money back guarantee. So it's totally risk free.
Payment Methods
It accepts payments via PayPal and cards like Visa, MasterCard and Amex are also accepted.
Additional Features
Priority 24/7/367 live support
Fastest website speed load
Drag & Drop builder + free templates
Unlimited number of email boxes
Fully Optimized WordPress hosting
Full FTP & Cpanel file control
One-Click script auto installer
Comparison with other Hosting Providers
Other Hosting providers like Godaddy, Hostgator India or Bigrock is somewhat costly compared to Hostinger.
Godaddy: Rs.159/month
Hostgator India: Rs.159/month
Bigrock : Rs.149/month
You can see pricing of Hostinger is almost half of the other hosting service providers. You can get all features in half price.
Related Post