How to Redeem Hostinger Coupon Code?
Step 1 : To redeem hostinger coupon code first visit Hostinger.com.
Step 2: Select Plans as mentioned below. You can select plans from 3 months to 48 months.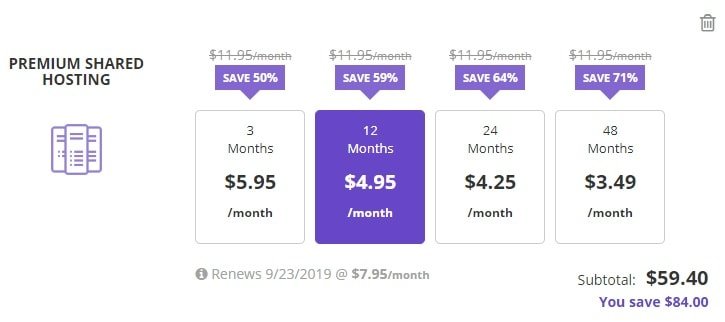 Step 3: Now on the right hand side you will see the order summary. In the summary add coupon code copied from this page. That's it. You will avail the discount.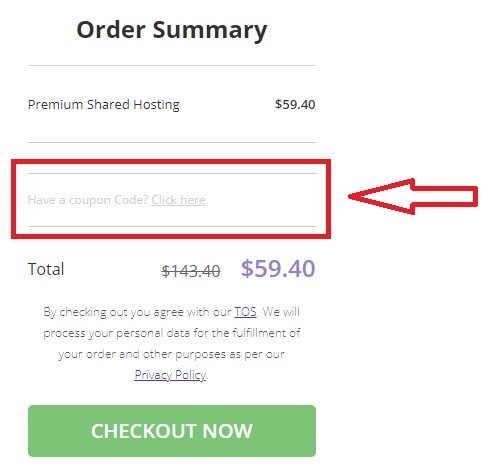 Hostinger Domain Coupon Code
Does hostinger provide promo code on domain names? Answer to this question is that right now no active coupon for hostinger domain. But you can get discount on domain name for the first year. You will avail 18% discount on hostinger domain registration. Another way to get free domain name is to buy Premium or Business hosting plan for 12 months or longer duration.
Get Free Hosting By Hostinger
Hostinger allows you to host your website free of cost. You can host your own website, build new website using WordPress or using available templates. It very much easy. It allows 1 click installation for WordPress. Visit here to host Website free of cost using Hostinger Free Hosting. For paid plans also I can say hostinger is cheap hosting provider compared to others.
Different Hosting Plans by Hostinger
Here you can choose from various hosting plans like Single Shared hosting, Premium Shared Hosting and Business Shared Hosting.
Single Shared Hosting
Basic Shared hosting plan starts from just $0.99/month. Additionally when you apply coupon code provided by us then you can get that at just $0.92/month.
Basic Plan is good for those whose website having less number of visitors or we can say low traffic. Plan includes 1 Website, 1 Email Account, 100 GB Bandwidth and 1X Processing Power & Memory.
Premium Shared Hosting
This type of hosting includes Unlimited Number of Websites, Unlimited Email Accounts, Unlimited Bandwidth, 2X Processing Power & Memory and it takes up Weekly Backups of your website which makes your important data safe.
Plan starts from just $2.89/month when you buy for 48 months. Use our special 15% off coupon code ad get it at just $2.51/month.
Business Shared Hosting
This plan includes all the features of premium shared hosting plus additional features like Daily Backups, Free SSL Certificate and 4X Processing Power & Memory.
Business hosting plan starts from $3.95/month. And after applying Hostinger coupon it will be $3.36/month.
Frequently Asked Questions on Hostinger
Will I get free domain name?
Yes! you can avail free domain name by purchasing annual Premium & Business web hosting plans.
Does Hostinger provides free SSL Certificate?
Ya Sure. You will get free SSL certificate will all plan purchased annually.
What types of services does Hostinger provides?
Hostinger provides different types of services like shared hosting, premium hosting, vps hosting, email hosting, cloud hosting and eCommerce hosting.
What about money back guarantee?
This is best features of hostinger that it gives you 30 days money back guarantee.
What are the payment options?
payments can be one via PayPal, Credit card like Visa, MasterCard and Amex payments.
Can I transfer my existing website to Hostinger?
Yes! you can do it easily by using various tools. But of you are not able to do so then hostinger staff can help you to migrate website. And this is totally free of cost.
Related Offers
You can get Hostinger Coupon Code India for India users and users from united kingdom (UK) can use Special Hostinger UK Promo Code here.