Verified 1&1 IONOS Promo Code for November 2023
Here is the latest deals and promo code offered by 1and1 IONOS is listed. Below is the types and discount value with sale price.
| | | |
| --- | --- | --- |
| HOSTING TYPE | DISCOUNT VALUE | SALE PRICE |
| Shared Hosting | 88% OFF | $0.99 |
| Website Builder Hosting | 88% OFF | $0.99 |
| WordPress Hosting | 90% OFF | $0.99 |
| VPS Hosting | 50% OFF | $4.99 |
| Dedicated Hosting | 63% OFF | $29.99 |
How to Use 1&1 IONOS Coupons & Offers?
Step 1: Visit IONOS.com Website.
Step 2: Search for the desired domain name by clicking Check button as shown below. Click on continue to select hosting plans.

Step 3: Choose Web hosting or MyWebsite for Website Builder. Click on "Add to Cart" button.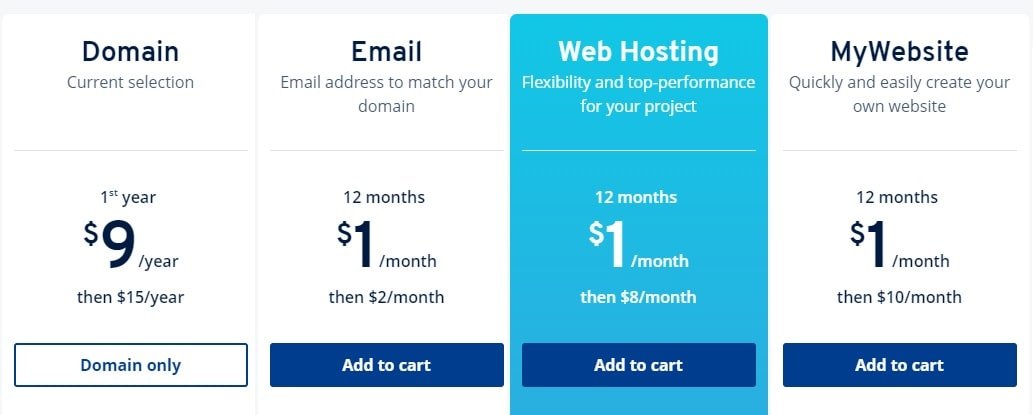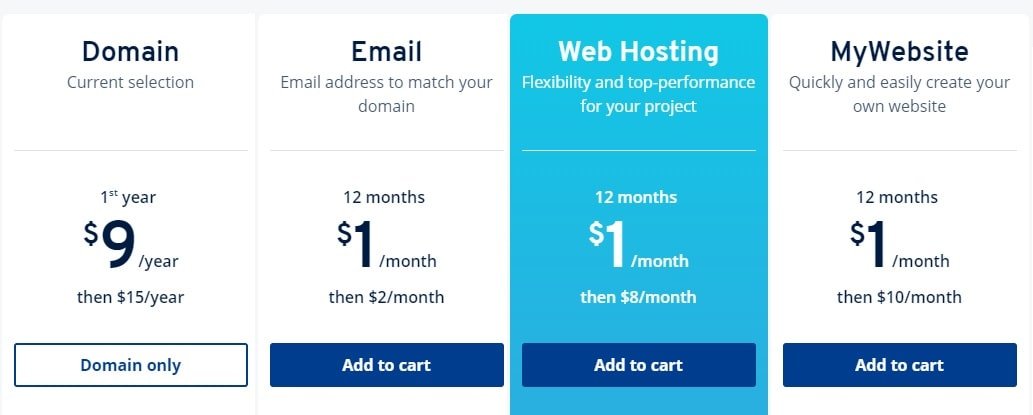 Step 4: After selecting add to cart you can see your selected plan as mentioned below. You will get free private registration. You can add other features like rankingCoach Essential and Managed WordPress for 30 days free trial.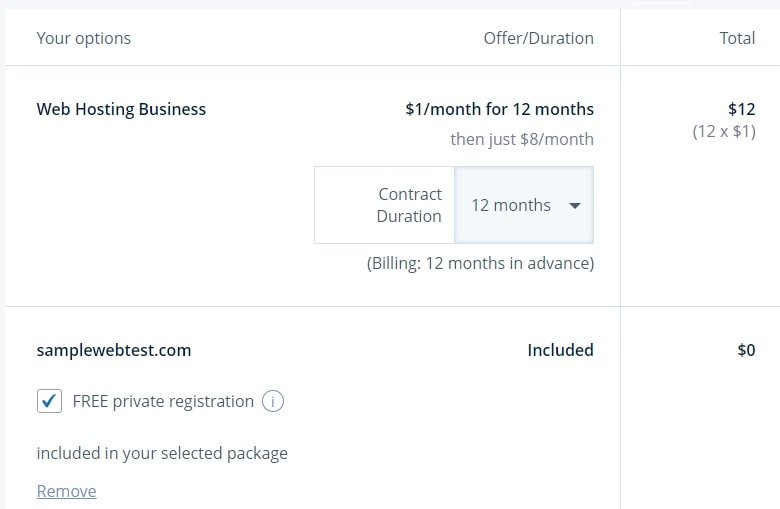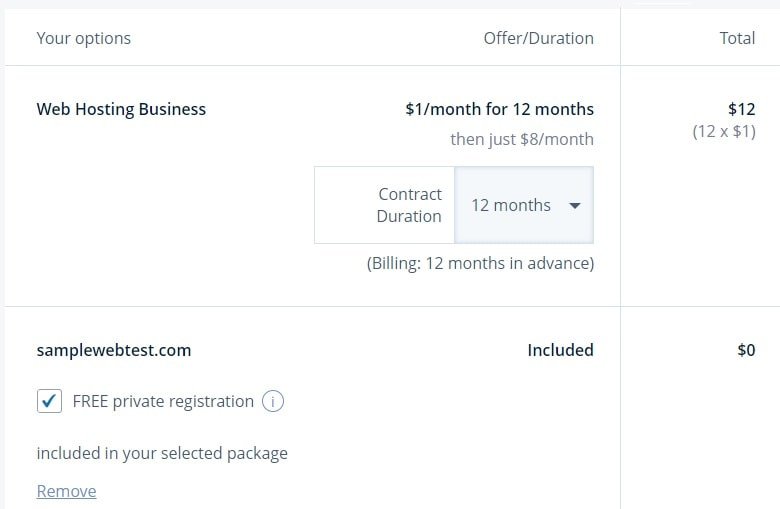 Step 5: Finally you can Checkout by using your IONOS customer ID if you are already IONOS customer or use Paypal to Checkout.
Step 6: If you are new customer then register your self by providing basic details.
This way you will be able to avail the offer.
1&1 IONOS Web Hosting Services
IONOS offers hosting services like shared web hosting, ASP.Net hosting, Dedicated hosting, VPS hosting, WordPress hosting and website builders.
Web Hosting Shared
Shared hosting is very fast and scalable which guarantees 99.9% uptime. It also offers free domain for 1 year, free wildcard SSL certificate, 30 days money back guarantee and 24/7 support.
There are three plans namely Essential, Business and Expert plan.
Essential Plan for One Website or Project
Price : $4/month then renewal at $6/mo
Best for 1 Website
10 GB Storage
10 Databases : MariaDB or MySQL
Professional Email included
Domain included for 1 year
Business Plan for Larger Web Projects
Price : $0.50/month then renewal at $10/mo
Website Unlimited
Storage Unlimited
Unlimited Databases : MariaDB or MySQL
Enhanced CPU and MEM Resources
Expert Plan for Multiple Large Web Projects
Price : $8/month then renewal at $16/mo
All features of business hosting
SiteScan malware protection
Content Delivery Network (CDN)
Site Analytics Plus
ASP.Net Hosting
It is best performing windows hosting. It supports windows server 2019, ASP.NET 4.8 and .NET 6.0, updated security features at just $5/month.
Some of the below mentioned features that make you choose IONOS windows hosting.
Highly secured data centers
DDoS Protected
Latest version of Windows server
Web servers running the HTTP/2 network protocol
CDN for latency issue and website speed
24/7 customer support
Helpful technical community which helps each other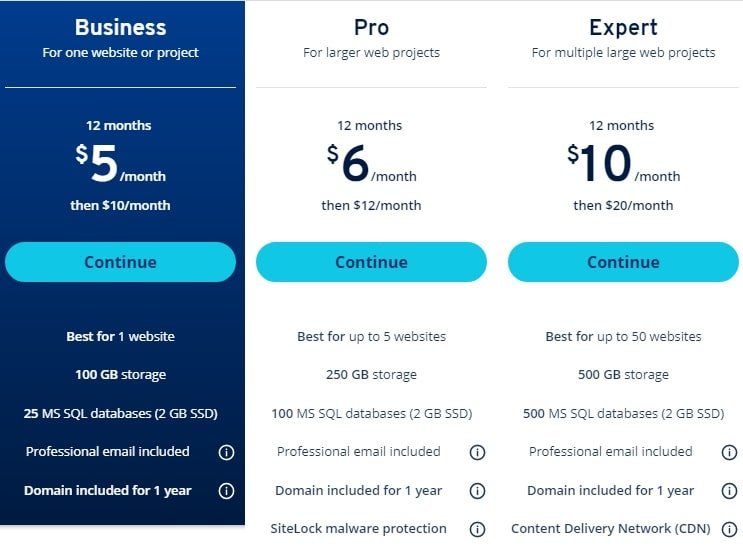 VPS Hosting – Cheap Windows and Linux VPS server
Do you need powerful hosting then you can go with VPS hosting. It comes with dedicated resources with unlimited traffic. It's plan starts from $2/month only.
There are mainly five types of VPS hosting plans like VPS S, VPS M, VPS L, VPS XL and VPS XXL. Basic VPS plan includes 1 vCore CPU, 512 MB RAM and 10 GB SSD storage.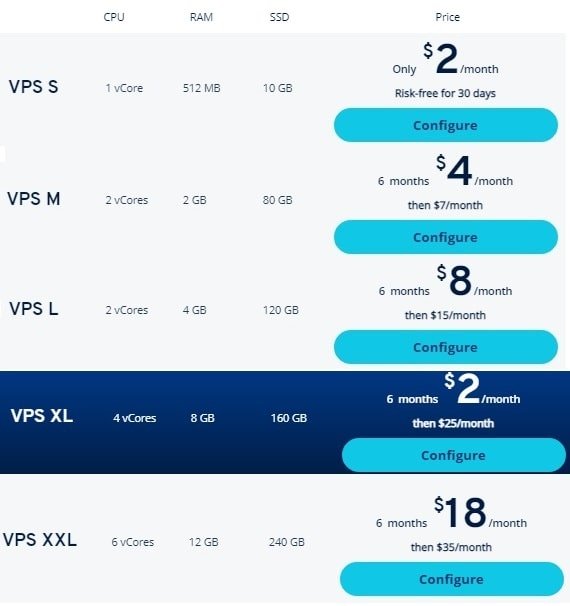 1and1 IONOS Website Builder
Launch your website in just a minute with 1and1 website builder tool. Not to worry about technical knowledge. Easy launch your website in just few steps which cost you only $1/month. Website Builder includes templates, free domain, email account and social media widgets.
Cloud Server 1and1 IONOS
For the growing need of your business you can select cloud servers. Here you will get new user-friendly interface that makes managing your server easy – leaving you more time to spend on your business. Apply Cloud Server Promo Code to get discount.
IONOS Support Contact
You can call us 24/7 on this number to get support : 1-484-254-555
You can connect via email also at support@ionos.com.
IONOS also provides live chat support on it's website.
So, Hurry up and make your business online. Use coupon code provided here to grab the discount.